Spurred by the World Cup football tournament, the global TV market recorded total sales of €45 billion in the first half of the year according to research from GfK, up 1% annually and driven by high-end TVs dragging the market upwards.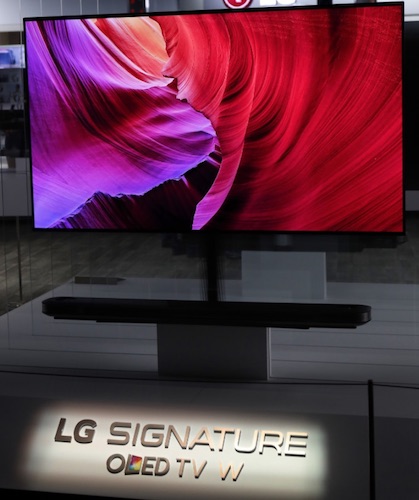 GfK found that in the first half year 2018, 50+ inch TVs accounted for half of the total sales value globally. These high-end devices have commensurate higher than average prices — they can achieve prices of up to more than €4,000 — and their growth is seen an indication in the 70 countries surveyed of the growing popularity of smart and connected TVs. From January to June 2018, smart TVs were found to have obtained a sales value share of 85%, up from 79% in 2017.
"These premium devices feature contrast enhancing
HDR
or
organic LED (OLED),
the winning display technology in the premium price tier, with a sales value increase of more than 100%," commented GfK expert for consumer electronics Markus Kick. "Western Europe mainly drove the trend towards OLEDs, but almost all regions show three-digit growth rates. Further manufacturers are expected to join the game in the second half of 2018, adding some more dynamic in that market. In terms of the display resolution, 4K is still on the rise and
the first 8K models
are expected to be showcased at this year's IFA already." The analyst believes that if current growth continues, there will be a total of 238 million devices shipped ring the year, a 2% increase cored with 2017.
Looking at other key drivers for the market,
GfK
found that on a regional level, LATAM fuelled global growth heavily. The region saw 93% of the sales value from January to June 2018 coming from smart TVs. Only the Middle East and Africa region is lagging behind with around 66% value share for smart TVs.
LATAM also accounted for 11% of the global TV sales and recovered successfully from substantial losses in recent years and its countries contributed a sales value growth of 25% towards the global turnover increase in the TV market. By contrast, Europe and APAC show growth between minus 5% to plus 4%.